---
---
April Fools Day event 2018

New function "Dolly Battle" released! Come and win the hearts of girls from the Dragon Ball Series!
Starting from 4/1 (Sun), Dragon Ball Z Dokkan Battle will release the whole new Dating Simulation Mode "Dragon Ball Z Dolly Battle"!
Girls from the Dragon Ball Series will show up in the new function "Dolly Battle"!
Brianne will help you out in the game, and now let's welcome her for a brief introduction about the new function!
Grow closer with the girls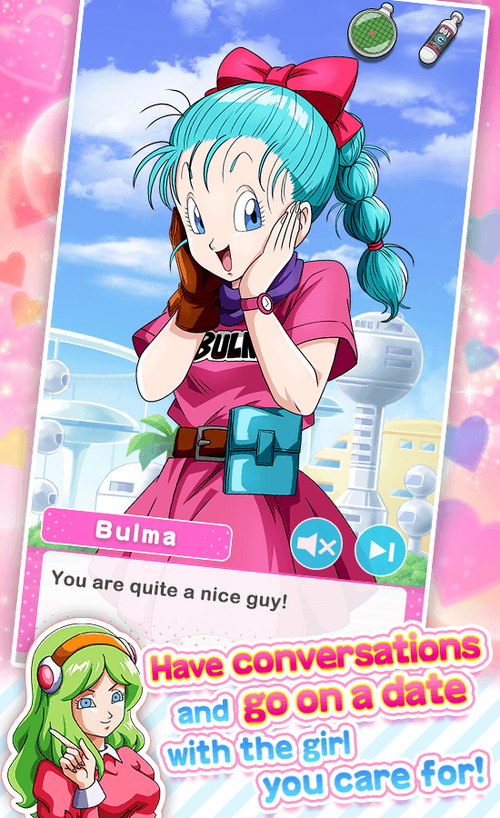 Have conversations with the girls to raise affinity!
Tap on the "Capsule Button" at the top-right corner to choose items as presents for the girls!
Raise affinity by giving gifts!
On top of that, you can use the "Dragon Radar" to collect the scattered Dragon Balls and summon Shenron!
Don't feel disappointed even if the girls turn you down!
There's always a solution if you make a wish to Shenron!
* If you state your wish directly to Shenron, Shadow Dragons might appear and lead you to a Bad End.
Surprises derived from your choices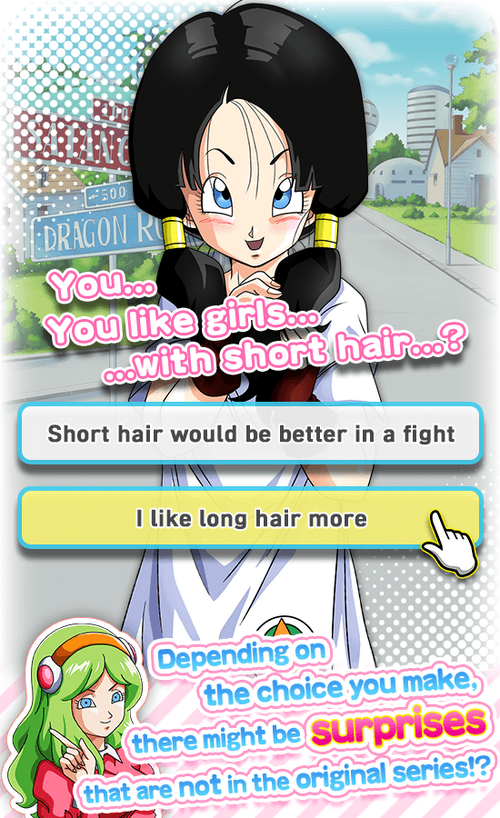 Select a choice that will make the girls happy during conversations!
If you find it difficult to understand the girl's mind, use the skill taught by Captain Ginyu to "Body Change" with her!
However, depending on the choice made, you might worsen your relationship with the girl!
Nevertheless, do not worry!
Even if you've made the wrong choice, there's always a solution if you make a wish to Shenron!
* If you state your wish directly to Shenron, Shadow Dragons might appear and lead you to a Bad End.
Dolly Awakening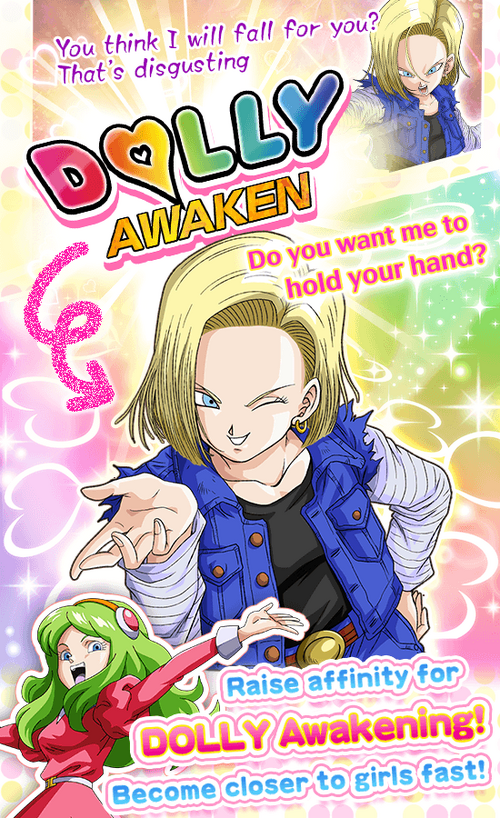 - Dolly Awakening You may perform Dolly Awakening if you raise your affinity with the girls!
If you succeed in Dolly Awakening, you may even shorten the distance with girls who act cold towards you at once!
Come discover the girls' hidden charms!
- To Reverse Dolly Awakening If you ever think, "I liked her better when she was mean!", you may use "Incredible Hourglass" to reverse the results of Dolly Awakening!
If you're lucky enough, the girl might even become colder than before!

Many girls are waiting just for you!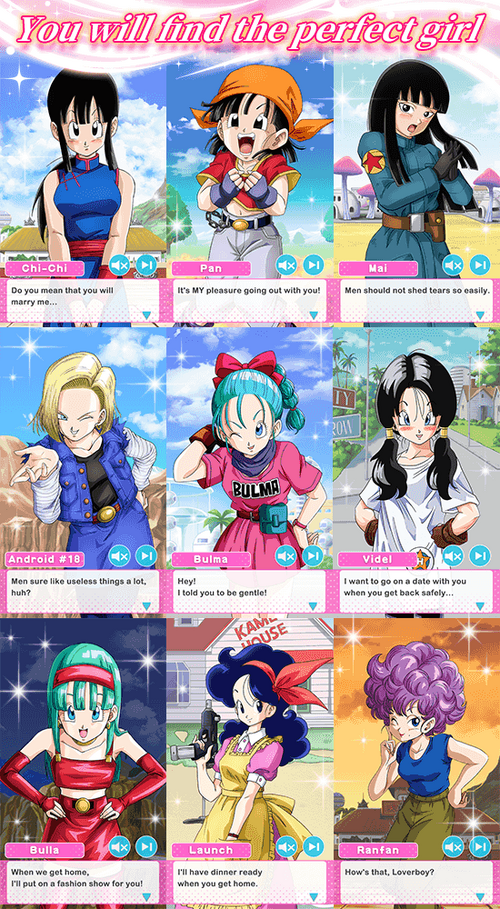 Carry out a dream life with your ideal girl in the Dragon Ball world!
This is the end of Brianne's introduction!
To learn more, please try out the new function!
Last but not least, luxurious Starter Dash Campaign is also available!
Everyone's favorite Baba will show up as well!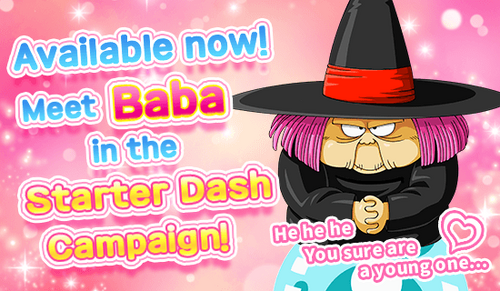 Fully enjoy "Dolly Battle" that brings Dokkan Battle to a new height!
| | |
| --- | --- |
| Heroine Image | Heroine Profile (Source: Dolly Battle Official Facebook Page) |
| | Baba: Legendary fortuneteller and sister of Master Roshi. What does the future have in store for your love life? Defeat 5 strong fighters first and she'll think about telling you! (Just kidding) |
| | Ranfan: A bombshell babe who made her way through the 21st World Martial Arts tournament with her feminine wiles and an impressive underwear collection. There's no resisting this femme fatale unless you keep your eyes closed! (Just kidding) |
| | 18: A bad girl with a heart of gold from the wrong side of the robotics lab. (Might want to get that bomb looked at...) Her curt demeanor belies a unique fashion sense and a love for staying on-trend. Think you can keep up? (Just kidding) |
| | Chi-Chi: Once she sets her heart on something, there's no stopping the only daughter of the Ox King. She proved that in the World Tournament, and some things never change. Gotta respect that! (Just kidding) |
| | Mai: The world of the not-so-distant future is counting on this heroine of the Resistance! A natural leader, she has a big-sisterly air that all her comrades believe in. Fight the good fight alongside her! (Just kidding) |
| | Videl: The daughter of the world-champion Hercule himself, this feisty tomboy has an unshakeable sense of justice. But deep down, she's got a girlish heart and loves to be around her crush. If you can teach her how to fly, you might be in with a fighting chance! (Just kidding) |
| | Launch: Her heart is so pure she can ride the Flying Nimbus! But when she sneezes, watch out... It's like she becomes a completely different person. If you take her out on a date, be prepared to hold onto her spare ammo. (Just kidding) |
| | Bulma: It's the adorable girl genius whose quest for the Dragon Balls started an unforgettable legend! She's sweet, but has a bit of a selfish side. She prefers the cool, loner sort of type, so work on that rebel appeal! Oh, but don't even think about cheating. (Just kidding) |
| | Pan: |
| | Bulla: |
Compensation
By logging in on April 2, 2018 you'll receive
x1 and

x15 as an extra login bonus.
---
---
Community content is available under
CC-BY-SA
unless otherwise noted.