"Requires updating"


The information on this page may need to be updated.
Keep in mind that some info may not be correct until this infobox has been removed from the page.
---
---









---

---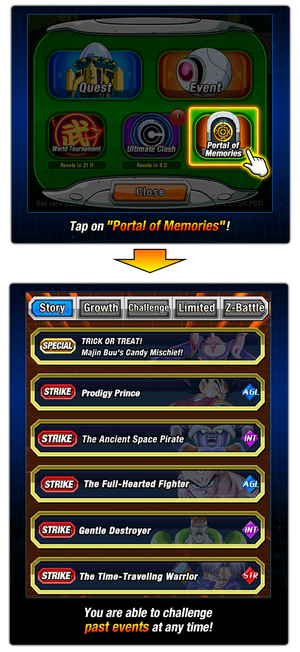 ---
With Keys of the Past you can complete a stage of events that aren't available on the day you use them. Even if you haven't completed the stage beforehand (although you still need to complete stage 1 before you can access stage 2 etc). If the event is already available that day it won't show up in the list.
Instead of using stamina you will use Keys of the Past to complete the stage. Depending on the difficulty the stage requires more Keys of the Past.
NORMAL, HARD and SUPER3 (SBR) difficulties require 1 key
Z-HARD and SUPER difficulties require 2 keys
SUPER2 difficulty requires 3 keys
Extreme Z-Battle stages require different amounts

Lv. 5 & next uncompleted stage: 1 key
Lv. 10 & 15: 2 keys
Lv. 20 & 25 & 30: 3 keys






(unreleased)
List of Events