---









---

Skill Orbs are items that boost a character's stats or raise a character's Hidden Potential Skill level when equipped to corresponding slots. Only UR or LR characters can equip Skill Orbs.
They come in the following three rarities: Bronze, Silver and Gold.
Conditions for unlocking each rarity:
Bronze Slot: Awaken the character to UR.
Silver Slot: Raise the character's Super Attack to Lv 10.
Gold Slot: Unlock two of the character's Hidden Potential routes.
Some Skill Orbs may be restricted to certain Types, Categories, or specific characters.
To equip a new Skill Orb in the same slot, simply equip it over the old one. Note that the Skill Orbs you replace will not be returned to you, so think carefully before swapping them for new ones.
---
---

Icon
Name
Level
Types
Description
HP
1-5
Equipped character's HP +100/500.
ATK
1-5
Equipped character's ATK +100/500.
DEF
1-5
Equipped character's DEF +100/500.
HP
1-5
•
Equipped character's HP +100/500. Only for "Representatives of Universe 7" Category characters.
ATK
1-5
•
Equipped character's ATK +100/500. Only for "Representatives of Universe 7" Category characters.
DEF
1-5
•
Equipped character's DEF +100/500. Only for "Representatives of Universe 7" Category characters.
HP
1-5
•
Equipped character's HP +100/500. Only for "Fusion" Category characters.
ATK
1-5
•
Equipped character's ATK +100/500. Only for "Fusion" Category characters.
DEF
1-5
•
Equipped character's DEF +100/500. Only for "Fusion" Category characters.
Combo Attack
1-2
The Skill Orb's level is added to the equipped character's Hidden Potential Skill level.
Critical Hit
1-2
The Skill Orb's level is added to the equipped character's Hidden Potential Skill level.
Evasion
1-2
The Skill Orb's level is added to the equipped character's Hidden Potential Skill level.
Type DEF Boost
1-2
The Skill Orb's level is added to the equipped character's Hidden Potential Skill level.
Type ATK Boost
1-2
The Skill Orb's level is added to the equipped character's Hidden Potential Skill level.
Super Attack Boost
1-2
The Skill Orb's level is added to the equipped character's Hidden Potential Skill level.
Recovery Boost
1-2
The Skill Orb's level is added to the equipped character's Hidden Potential Skill level.
Combo Attack
1-2
•
The Skill Orb's level is added to the equipped character's Hidden Potential Skill level.
It can only be equipped to or
Critical Hit
1-2
•
The Skill Orb's level is added to the equipped character's Hidden Potential Skill level.
It can only be equipped to or
Evasion
1-2
•
The Skill Orb's level is added to the equipped character's Hidden Potential Skill level.
It can only be equipped to or
Combo Attack
1-2
•
The Skill Orb's level is added to the equipped character's Hidden Potential Skill level.
It can only be equipped to or
Critical Hit
1-2
•
The Skill Orb's level is added to the equipped character's Hidden Potential Skill level.
It can only be equipped to or
Evasion
1-2
•
The Skill Orb's level is added to the equipped character's Hidden Potential Skill level.
It can only be equipped to or
Combo Attack
1-2
•
The Skill Orb's level is added to the equipped character's Hidden Potential Skill level.
It can only be equipped to or
Critical Hit
1-2
•
The Skill Orb's level is added to the equipped character's Hidden Potential Skill level.
It can only be equipped to or
Evasion
1-2
•
The Skill Orb's level is added to the equipped character's Hidden Potential Skill level.
It can only be equipped to or
Combo Attack
1-2
•
The Skill Orb's level is added to the equipped character's Hidden Potential Skill level.
It can only be equipped to or
Critical Hit
1-2
•
The Skill Orb's level is added to the equipped character's Hidden Potential Skill level.
It can only be equipped to or
Evasion
1-2
•
The Skill Orb's level is added to the equipped character's Hidden Potential Skill level.
It can only be equipped to or
Combo Attack
1-2
•
The Skill Orb's level is added to the equipped character's Hidden Potential Skill level.
It can only be equipped to or
Critical Hit
1-2
•
The Skill Orb's level is added to the equipped character's Hidden Potential Skill level.
It can only be equipped to or
Evasion
1-2
•
The Skill Orb's level is added to the equipped character's Hidden Potential Skill level.
It can only be equipped to or

Icon
Name
Level
Types
Description
Combo Attack
1-3
The Skill Orb's level is added to the equipped character's Hidden Potential Skill level.
Critical Hit
1-3
The Skill Orb's level is added to the equipped character's Hidden Potential Skill level.
Evasion
1-3
The Skill Orb's level is added to the equipped character's Hidden Potential Skill level.
Type DEF Boost
1-3
The Skill Orb's level is added to the equipped character's Hidden Potential Skill level.
Type ATK Boost
1-3
The Skill Orb's level is added to the equipped character's Hidden Potential Skill level.
Super Attack Boost
1-3
The Skill Orb's level is added to the equipped character's Hidden Potential Skill level.
Recovery Boost
1-3
The Skill Orb's level is added to the equipped character's Hidden Potential Skill level.
Combo Attack
4-5
The Skill Orb's level is added to the equipped character's Hidden Potential Skill level.
Critical Hit
4-5
The Skill Orb's level is added to the equipped character's Hidden Potential Skill level.
Evasion
4-5
The Skill Orb's level is added to the equipped character's Hidden Potential Skill level.
Type DEF Boost
4-5
The Skill Orb's level is added to the equipped character's Hidden Potential Skill level.
Type ATK Boost
4-5
The Skill Orb's level is added to the equipped character's Hidden Potential Skill level.
Super Attack Boost
4-5
The Skill Orb's level is added to the equipped character's Hidden Potential Skill level.
Recovery Boost
4-5
The Skill Orb's level is added to the equipped character's Hidden Potential Skill level.
Type DEF Boost
1-4
•
The Skill Orb's level is added to the equipped character's Hidden Potential Skill level. Only for "Representatives of Universe 7" Category characters.
Type ATK Boost
1-4
•
The Skill Orb's level is added to the equipped character's Hidden Potential Skill level. Only for "Representatives of Universe 7" Category characters.
Super Attack Boost
1-4
•
The Skill Orb's level is added to the equipped character's Hidden Potential Skill level. Only for "Representatives of Universe 7" Category characters.
Recovery Boost
1-4
•
The Skill Orb's level is added to the equipped character's Hidden Potential Skill level. Only for "Representatives of Universe 7" Category characters.
Type DEF Boost
1-4
•
The Skill Orb's level is added to the equipped character's Hidden Potential Skill level. Only for "Fusion" Category characters.
Type ATK Boost
1-4
•
The Skill Orb's level is added to the equipped character's Hidden Potential Skill level. Only for "Fusion" Category characters.
Super Attack Boost
1-4
•
The Skill Orb's level is added to the equipped character's Hidden Potential Skill level. Only for "Fusion" Category characters.
Recovery Boost
1-4
•
The Skill Orb's level is added to the equipped character's Hidden Potential Skill level. Only for "Fusion" Category characters.
Super Attack Boost
4
•
The Skill Orb's level is added to the equipped character's Hidden Potential Skill level. Only for characters whose name includes "Goku" (names with &, /, Jr., Captain Ginyu and Zamasu excluded).
Super Attack Boost
4
•
The Skill Orb's level is added to the equipped character's Hidden Potential Skill level. Only for characters whose name includes "Gohan" (including names with Great Saiyaman, but excluding those with &, /, Grandpa and Possessed).
Super Attack Boost
4
•
The Skill Orb's level is added to the equipped character's Hidden Potential Skill level. Only for characters whose name includes "Goten" (names with & and Possessed excluded).
HP
1-3
•
Equipped character's HP +200/600. Only for "Universe 6" Category characters.
ATK
1-3
•
Equipped character's ATK +200/600. Only for "Universe 6" Category characters.
DEF
1-3
•
Equipped character's DEF +200/600. Only for "Universe 6" Category characters.
Type DEF Boost
1-4
•
The Skill Orb's level is added to the equipped character's Hidden Potential Skill level. Only for "Universe 6" Category characters.
Type ATK Boost
1-4
•
The Skill Orb's level is added to the equipped character's Hidden Potential Skill level. Only for "Universe 6" Category characters.
Super Attack Boost
1-4
•
The Skill Orb's level is added to the equipped character's Hidden Potential Skill level. Only for "Universe 6" Category characters.
Recovery Boost
1-4
•
The Skill Orb's level is added to the equipped character's Hidden Potential Skill level. Only for "Universe 6" Category characters.
HP
1-3
•
Equipped character's HP +200/600. Only for "Shadow Dragon Saga" Category characters.
ATK
1-3
•
Equipped character's ATK +200/600. Only for "Shadow Dragon Saga" Category characters.
DEF
1-3
•
Equipped character's DEF +200/600. Only for "Shadow Dragon Saga" Category characters.
Type DEF Boost
1-4
•
The Skill Orb's level is added to the equipped character's Hidden Potential Skill level. Only for "Shadow Dragon Saga" Category characters.
Type DEF Boost
1-4
•
The Skill Orb's level is added to the equipped character's Hidden Potential Skill level. Only for "Shadow Dragon Saga" Category characters.
Type ATK Boost
1-4
•
The Skill Orb's level is added to the equipped character's Hidden Potential Skill level. Only for "Shadow Dragon Saga" Category characters.
Super Attack Boost
1-4
•
The Skill Orb's level is added to the equipped character's Hidden Potential Skill level. Only for "Shadow Dragon Saga" Category characters.
Recovery Boost
1-4
•
The Skill Orb's level is added to the equipped character's Hidden Potential Skill level. Only for "Shadow Dragon Saga" Category characters.
Combo Attack
1-4
•
The Skill Orb's level is added to the equipped character's Hidden Potential Skill level.
It can only be equipped to or
Critical Hit
1-4
•
The Skill Orb's level is added to the equipped character's Hidden Potential Skill level.
It can only be equipped to or
Evasion
1-4
•
The Skill Orb's level is added to the equipped character's Hidden Potential Skill level.
It can only be equipped to or
Combo Attack
1-4
•
The Skill Orb's level is added to the equipped character's Hidden Potential Skill level.
It can only be equipped to or
Critical Hit
1-4
•
The Skill Orb's level is added to the equipped character's Hidden Potential Skill level.
It can only be equipped to or
Evasion
1-4
•
The Skill Orb's level is added to the equipped character's Hidden Potential Skill level.
It can only be equipped to or
Combo Attack
1-4
•
The Skill Orb's level is added to the equipped character's Hidden Potential Skill level.
It can only be equipped to or
Critical Hit
1-4
•
The Skill Orb's level is added to the equipped character's Hidden Potential Skill level.
It can only be equipped to or
Evasion
1-4
•
The Skill Orb's level is added to the equipped character's Hidden Potential Skill level.
It can only be equipped to or
Combo Attack
1-4
•
The Skill Orb's level is added to the equipped character's Hidden Potential Skill level.
It can only be equipped to or
Critical Hit
1-4
•
The Skill Orb's level is added to the equipped character's Hidden Potential Skill level.
It can only be equipped to or
Evasion
1-4
•
The Skill Orb's level is added to the equipped character's Hidden Potential Skill level.
It can only be equipped to or
Combo Attack
1-4
•
The Skill Orb's level is added to the equipped character's Hidden Potential Skill level.
It can only be equipped to or
Critical Hit
1-4
•
The Skill Orb's level is added to the equipped character's Hidden Potential Skill level.
It can only be equipped to or
Evasion
1-4
•
The Skill Orb's level is added to the equipped character's Hidden Potential Skill level.
It can only be equipped to or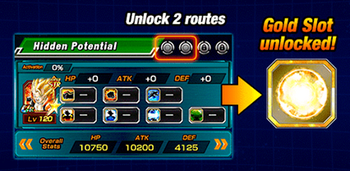 Icon
Name
Level
Description
Combo Attack
1-3
The Skill Orb's level is added to the equipped character's Hidden Potential Skill level.
Critical Hit
1-3
The Skill Orb's level is added to the equipped character's Hidden Potential Skill level.
Evasion
1-3
The Skill Orb's level is added to the equipped character's Hidden Potential Skill level.
Type DEF Boost
1-3
The Skill Orb's level is added to the equipped character's Hidden Potential Skill level.
Type ATK Boost
1-3
The Skill Orb's level is added to the equipped character's Hidden Potential Skill level.
Super Attack Boost
1-3
The Skill Orb's level is added to the equipped character's Hidden Potential Skill level.
Recovery Boost
1-3
The Skill Orb's level is added to the equipped character's Hidden Potential Skill level.
Critical Hit
+ Combo Attack
1-3
1-4
The Skill Orb's level is added to the equipped character's Hidden Potential Skill level.
Combo Attack
+ Evasion
1-3
1-4
The Skill Orb's level is added to the equipped character's Hidden Potential Skill level.
Combo Attack
+ Type DEF Boost
1-3
1-4
The Skill Orb's level is added to the equipped character's Hidden Potential Skill level.
Combo Attack
+ Type ATK Boost
1-3
1-4
The Skill Orb's level is added to the equipped character's Hidden Potential Skill level.
Combo Attack
+ Super Attack Boost
1-3
1-4
The Skill Orb's level is added to the equipped character's Hidden Potential Skill level.
Combo Attack
+ Recovery Boost
1-3
1-4
The Skill Orb's level is added to the equipped character's Hidden Potential Skill level.
Critical Hit
+ Evasion
1-3
1-4
The Skill Orb's level is added to the equipped character's Hidden Potential Skill level.
Critical Hit
+ Type DEF Boost
1-3
1-4
The Skill Orb's level is added to the equipped character's Hidden Potential Skill level.
Critical Hit
+ Type ATK Boost
1-3
1-4
The Skill Orb's level is added to the equipped character's Hidden Potential Skill level.
Critical Hit
+ Super Attack Boost
1-3
1-4
The Skill Orb's level is added to the equipped character's Hidden Potential Skill level.
Critical Hit
+ Recovery Boost
1-3
1-4
The Skill Orb's level is added to the equipped character's Hidden Potential Skill level.
Type DEF Boost
+ Evasion
1-3
1-4
The Skill Orb's level is added to the equipped character's Hidden Potential Skill level.
Type DEF Boost
+ Super Attack Boost
1-3
1-4
The Skill Orb's level is added to the equipped character's Hidden Potential Skill level.
Type ATK Boost
+ Evasion
1-3
1-4
The Skill Orb's level is added to the equipped character's Hidden Potential Skill level.
Type ATK Boost
+ Type DEF Boost
1-3
1-4
The Skill Orb's level is added to the equipped character's Hidden Potential Skill level.
Type ATK Boost
+ Evasion
1-3
1-4
The Skill Orb's level is added to the equipped character's Hidden Potential Skill level.
Super Attack Boost
+ Evasion
1-3
1-4
The Skill Orb's level is added to the equipped character's Hidden Potential Skill level.
Recovery Boost
+ Evasion
1-3
1-4
The Skill Orb's level is added to the equipped character's Hidden Potential Skill level.
Recovery Boost
+ Type DEF Boost
1-3
1-4
The Skill Orb's level is added to the equipped character's Hidden Potential Skill level.
Recovery Boost
+ Type ATK Boost
1-3
1-4
The Skill Orb's level is added to the equipped character's Hidden Potential Skill level.
Recovery Boost
+ Super Attack Boost
1-3
1-4
The Skill Orb's level is added to the equipped character's Hidden Potential Skill level.
Combo Attack
1-5
The Skill Orb's level is added to the equipped character's Hidden Potential Skill level.
Critical Hit
1-5
The Skill Orb's level is added to the equipped character's Hidden Potential Skill level.
Evasion
1-5
The Skill Orb's level is added to the equipped character's Hidden Potential Skill level.
Type DEF Boost
1-5
The Skill Orb's level is added to the equipped character's Hidden Potential Skill level.
Type ATK Boost
1-5
The Skill Orb's level is added to the equipped character's Hidden Potential Skill level.
Super Attack Boost
1-5
The Skill Orb's level is added to the equipped character's Hidden Potential Skill level.
Recovery Boost
1-5
The Skill Orb's level is added to the equipped character's Hidden Potential Skill level.
Combo Attack
4
The Skill Orb's level is added to the equipped character's Hidden Potential Skill level. Only for "Representatives of Universe 7" Category characters.
Critical Hit
4
The Skill Orb's level is added to the equipped character's Hidden Potential Skill level. Only for "Representatives of Universe 7" Category characters.
Evasion
4
The Skill Orb's level is added to the equipped character's Hidden Potential Skill level. Only for "Representatives of Universe 7" Category characters.
Combo Attack
4
The Skill Orb's level is added to the equipped character's Hidden Potential Skill level. Only for "Fusion" Category characters.
Critical Hit
4
The Skill Orb's level is added to the equipped character's Hidden Potential Skill level. Only for "Fusion" Category characters.
Evasion
4
The Skill Orb's level is added to the equipped character's Hidden Potential Skill level. Only for "Fusion" Category characters.
Combo Attack
3
The Skill Orb's level is added to the equipped character's Hidden Potential Skill level. Only for "Universe 6" Category characters.
Critical Hit
3
The Skill Orb's level is added to the equipped character's Hidden Potential Skill level. Only for "Universe 6" Category characters.
Evasion
3
The Skill Orb's level is added to the equipped character's Hidden Potential Skill level. Only for "Universe 6" Category characters.
Combo Attack
3
The Skill Orb's level is added to the equipped character's Hidden Potential Skill level. Only for "Shadow Dragon Saga" Category characters.
Critical Hit
3
The Skill Orb's level is added to the equipped character's Hidden Potential Skill level. Only for "Shadow Dragon Saga" Category characters.
Evasion
3
The Skill Orb's level is added to the equipped character's Hidden Potential Skill level. Only for "Shadow Dragon Saga" Category characters.
Combo Attack
1-4
The Skill Orb's level is added to the equipped character's Hidden Potential Skill level. It can only be equipped to or
Critical Hit
1-4
The Skill Orb's level is added to the equipped character's Hidden Potential Skill level. It can only be equipped to or
Evasion
1-4
The Skill Orb's level is added to the equipped character's Hidden Potential Skill level. It can only be equipped to or
Combo Attack
1-4
The Skill Orb's level is added to the equipped character's Hidden Potential Skill level. It can only be equipped to or
Critical Hit
1-4
The Skill Orb's level is added to the equipped character's Hidden Potential Skill level. It can only be equipped to or
Evasion
1-4
The Skill Orb's level is added to the equipped character's Hidden Potential Skill level. It can only be equipped to or
Combo Attack
1-4
The Skill Orb's level is added to the equipped character's Hidden Potential Skill level. It can only be equipped to or
Critical Hit
1-4
The Skill Orb's level is added to the equipped character's Hidden Potential Skill level. It can only be equipped to or
Evasion
1-4
The Skill Orb's level is added to the equipped character's Hidden Potential Skill level. It can only be equipped to or
Combo Attack
1-4
The Skill Orb's level is added to the equipped character's Hidden Potential Skill level. It can only be equipped to or
Critical Hit
1-4
The Skill Orb's level is added to the equipped character's Hidden Potential Skill level. It can only be equipped to or
Evasion
1-4
The Skill Orb's level is added to the equipped character's Hidden Potential Skill level. It can only be equipped to or
Combo Attack
1-4
The Skill Orb's level is added to the equipped character's Hidden Potential Skill level. It can only be equipped to or
Critical Hit
1-4
The Skill Orb's level is added to the equipped character's Hidden Potential Skill level. It can only be equipped to or
Evasion
1-4
The Skill Orb's level is added to the equipped character's Hidden Potential Skill level. It can only be equipped to or
Each Skill Orb is exclusive to one of the following Types:

Critical Hit
+ ATK
3 + 1
The Skill Orb's level is added to the equipped character's Hidden Potential Skill level and equipped character's ATK +300.
Evasion
+ DEF
3 + 2
The Skill Orb's level is added to the equipped character's Hidden Potential Skill level and equipped character's DEF +600.
Combo Attack
+ HP
3 + 3
The Skill Orb's level is added to the equipped character's Hidden Potential Skill level and equipped character's HP +900.
Critical Hit
+ ATK
4 + 1
The Skill Orb's level is added to the equipped character's Hidden Potential Skill level and equipped character's ATK +300.
Evasion
+ DEF
4 + 2
The Skill Orb's level is added to the equipped character's Hidden Potential Skill level and equipped character's DEF +600.
Combo Attack
+ HP
4 + 3
The Skill Orb's level is added to the equipped character's Hidden Potential Skill level and equipped character's HP +900.
Critical Hit
+ ATK
3 + 1
The Skill Orb's level is added to the equipped character's Hidden Potential Skill level and equipped character's ATK +300. It can only be equipped to Super Class characters.
Evasion
+ DEF
3 + 2
The Skill Orb's level is added to the equipped character's Hidden Potential Skill level and equipped character's DEF +600. It can only be equipped to Super Class characters.
Combo Attack
+ HP
3 + 3
The Skill Orb's level is added to the equipped character's Hidden Potential Skill level and equipped character's HP +900. It can only be equipped to Super Class characters.
Critical Hit
+ ATK
3 + 1
The Skill Orb's level is added to the equipped character's Hidden Potential Skill level and equipped character's ATK +300. It can only be equipped to Extreme Class characters.
Evasion
+ DEF
3 + 2
The Skill Orb's level is added to the equipped character's Hidden Potential Skill level and equipped character's DEF +600. It can only be equipped to Extreme Class characters.
Combo Attack
+ HP
3 + 3
The Skill Orb's level is added to the equipped character's Hidden Potential Skill level and equipped character's HP +900. It can only be equipped to Extreme Class characters.
Critical Hit
+ ATK
3 + 1
The Skill Orb's level is added to the equipped character's Hidden Potential Skill level and equipped character's ATK +300. It can only be equipped to "Fusion" Category characters.
Evasion
+ DEF
3 + 2
The Skill Orb's level is added to the equipped character's Hidden Potential Skill level and equipped character's DEF +600. It can only be equipped to "Fusion" Category characters.
Combo Attack
+ HP
3 + 3
The Skill Orb's level is added to the equipped character's Hidden Potential Skill level and equipped character's HP +900. It can only be equipped to "Fusion" Category characters.
Critical Hit
+ ATK
3 + 1
The Skill Orb's level is added to the equipped character's Hidden Potential Skill level and equipped character's ATK +300. It can only be equipped to "Shadow Dragon Saga" Category characters.
Evasion
+ DEF
3 + 2
The Skill Orb's level is added to the equipped character's Hidden Potential Skill level and equipped character's DEF +600. It can only be equipped to "Shadow Dragon Saga" Category characters.
Combo Attack
+ HP
3 + 3
The Skill Orb's level is added to the equipped character's Hidden Potential Skill level and equipped character's HP +900. It can only be equipped to "Shadow Dragon Saga" Category characters.
Critical Hit
+ ATK
3 + 1
The Skill Orb's level is added to the equipped character's Hidden Potential Skill level and equipped character's ATK +300. It can only be equipped to "Peppy Gals" Category characters.
Evasion
+ DEF
3 + 2
The Skill Orb's level is added to the equipped character's Hidden Potential Skill level and equipped character's DEF +600. It can only be equipped to "Peppy Gals" Category characters.
Combo Attack
+ HP
3 + 3
The Skill Orb's level is added to the equipped character's Hidden Potential Skill level and equipped character's HP +900. It can only be equipped to "Peppy Gals" Category characters.
Critical Hit
+ ATK
3 + 1
The Skill Orb's level is added to the equipped character's Hidden Potential Skill level and equipped character's ATK +300. It can only be equipped to "Hybrid Saiyans" Category characters.
Evasion
+ DEF
3 + 2
The Skill Orb's level is added to the equipped character's Hidden Potential Skill level and equipped character's DEF +600. It can only be equipped to "Hybrid Saiyans" Category characters.
Combo Attack
+ HP
3 + 3
The Skill Orb's level is added to the equipped character's Hidden Potential Skill level and equipped character's HP +900. It can only be equipped to "Hybrid Saiyans" Category characters.
Critical Hit
+ ATK
3 + 1
The Skill Orb's level is added to the equipped character's Hidden Potential Skill level and equipped character's ATK +300. It can only be equipped to "Resurrected Warriors" Category characters.
Evasion
+ DEF
3 + 2
The Skill Orb's level is added to the equipped character's Hidden Potential Skill level and equipped character's DEF +600. It can only be equipped to "Resurrected Warriors" Category characters.
Combo Attack
+ HP
3 + 3
The Skill Orb's level is added to the equipped character's Hidden Potential Skill level and equipped character's HP +900. It can only be equipped to "Resurrected Warriors" Category characters.
Critical Hit
+ ATK
3 + 1
The Skill Orb's level is added to the equipped character's Hidden Potential Skill level and equipped character's ATK +300. It can only be equipped to "Realm of Gods" Category characters.
Evasion
+ DEF
3 + 2
The Skill Orb's level is added to the equipped character's Hidden Potential Skill level and equipped character's DEF +600. It can only be equipped to "Realm of Gods" Category characters.
Combo Attack
+ HP
3 + 3
The Skill Orb's level is added to the equipped character's Hidden Potential Skill level and equipped character's HP +900. It can only be equipped to "Realm of Gods" Category characters.
Critical Hit
+ ATK
3 + 1
The Skill Orb's level is added to the equipped character's Hidden Potential Skill level and equipped character's ATK +300. It can only be equipped to "Majin Buu Saga" Category characters.
Evasion
+ DEF
3 + 2
The Skill Orb's level is added to the equipped character's Hidden Potential Skill level and equipped character's DEF +600. It can only be equipped to "Majin Buu Saga" Category characters.
Combo Attack
+ HP
3 + 3
The Skill Orb's level is added to the equipped character's Hidden Potential Skill level and equipped character's HP +900. It can only be equipped to "Majin Buu Saga" Category characters.
Critical Hit
+ ATK
3 + 1
The Skill Orb's level is added to the equipped character's Hidden Potential Skill level and equipped character's ATK +300. It can only be equipped to "Potara" Category characters.
Evasion
+ DEF
3 + 2
The Skill Orb's level is added to the equipped character's Hidden Potential Skill level and equipped character's DEF +600. It can only be equipped to "Potara" Category characters.
Combo Attack
+ HP
3 + 3
The Skill Orb's level is added to the equipped character's Hidden Potential Skill level and equipped character's HP +900. It can only be equipped to "Potara" Category characters.
Critical Hit
+ ATK
3 + 1
The Skill Orb's level is added to the equipped character's Hidden Potential Skill level and equipped character's ATK +300. It can only be equipped to "Universe Survival Saga" Category characters.
Evasion
+ DEF
3 + 2
The Skill Orb's level is added to the equipped character's Hidden Potential Skill level and equipped character's DEF +600. It can only be equipped to "Universe Survival Saga" Category characters.
Combo Attack
+ HP
3 + 3
The Skill Orb's level is added to the equipped character's Hidden Potential Skill level and equipped character's HP +900. It can only be equipped to "Universe Survival Saga" Category characters.
Critical Hit
+ ATK
3 + 1
The Skill Orb's level is added to the equipped character's Hidden Potential Skill level and equipped character's ATK +300. It can only be equipped to "Super Saiyan 3" Category characters.
Evasion
+ DEF
3 + 2
The Skill Orb's level is added to the equipped character's Hidden Potential Skill level and equipped character's DEF +600. It can only be equipped to "Super Saiyan 3" Category characters.
Combo Attack
+ HP
3 + 3
The Skill Orb's level is added to the equipped character's Hidden Potential Skill level and equipped character's HP +900. It can only be equipped to "Super Saiyan 3" Category characters.
Critical Hit
+ ATK
3 + 1
The Skill Orb's level is added to the equipped character's Hidden Potential Skill level and equipped character's ATK +300. It can only be equipped to "Giant Form" Category characters.
Evasion
+ DEF
3 + 2
The Skill Orb's level is added to the equipped character's Hidden Potential Skill level and equipped character's DEF +600. It can only be equipped to "Giant Form" Category characters.
Combo Attack
+ HP
3 + 3
The Skill Orb's level is added to the equipped character's Hidden Potential Skill level and equipped character's HP +900. It can only be equipped to "Giant Form" Category characters.
Critical Hit
+ ATK
3 + 1
The Skill Orb's level is added to the equipped character's Hidden Potential Skill level and equipped character's ATK +300. It can only be equipped to "Transformation Boost" Category characters.
Evasion
+ DEF
3 + 2
The Skill Orb's level is added to the equipped character's Hidden Potential Skill level and equipped character's DEF +600. It can only be equipped to "Transformation Boost" Category characters.
Combo Attack
+ HP
3 + 3
The Skill Orb's level is added to the equipped character's Hidden Potential Skill level and equipped character's HP +900. It can only be equipped to "Transformation Boost" Category characters.
Critical Hit
+ ATK
3 + 1
The Skill Orb's level is added to the equipped character's Hidden Potential Skill level and equipped character's ATK +300. It can only be equipped to "Ginyu Force" Category characters.
Evasion
+ DEF
3 + 2
The Skill Orb's level is added to the equipped character's Hidden Potential Skill level and equipped character's DEF +600. It can only be equipped to "Ginyu Force" Category characters.
Combo Attack
+ HP
3 + 3
The Skill Orb's level is added to the equipped character's Hidden Potential Skill level and equipped character's HP +900. It can only be equipped to "Ginyu Force" Category characters.
Critical Hit
+ ATK
3 + 1
The Skill Orb's level is added to the equipped character's Hidden Potential Skill level and equipped character's ATK +300. It can only be equipped to "Movie Bosses" Category characters.
Evasion
+ DEF
3 + 2
The Skill Orb's level is added to the equipped character's Hidden Potential Skill level and equipped character's DEF +600. It can only be equipped to "Movie Bosses" Category characters.
Combo Attack
+ HP
3 + 3
The Skill Orb's level is added to the equipped character's Hidden Potential Skill level and equipped character's HP +900. It can only be equipped to "Movie Bosses" Category characters.
Critical Hit
+ ATK
3 + 1
The Skill Orb's level is added to the equipped character's Hidden Potential Skill level and equipped character's ATK +300. It can only be equipped to "Pure Saiyans" Category characters.
Evasion
+ DEF
3 + 2
The Skill Orb's level is added to the equipped character's Hidden Potential Skill level and equipped character's DEF +600. It can only be equipped to "Pure Saiyans" Category characters.
Combo Attack
+ HP
3 + 3
The Skill Orb's level is added to the equipped character's Hidden Potential Skill level and equipped character's HP +900. It can only be equipped to "Pure Saiyans" Category characters.
Critical Hit
+ ATK
3 + 1
The Skill Orb's level is added to the equipped character's Hidden Potential Skill level and equipped character's ATK +300. It can only be equipped to "Future Saga" Category characters.
Evasion
+ DEF
3 + 2
The Skill Orb's level is added to the equipped character's Hidden Potential Skill level and equipped character's DEF +600. It can only be equipped to "Future Saga" Category characters.
Combo Attack
+ HP
3 + 3
The Skill Orb's level is added to the equipped character's Hidden Potential Skill level and equipped character's HP +900. It can only be equipped to "Future Saga" Category characters.
Critical Hit
+ ATK
3 + 1
The Skill Orb's level is added to the equipped character's Hidden Potential Skill level and equipped character's ATK +300. It can only be equipped to "Full Power" Category characters.
Evasion
+ DEF
3 + 2
The Skill Orb's level is added to the equipped character's Hidden Potential Skill level and equipped character's DEF +600. It can only be equipped to "Full Power" Category characters.
Combo Attack
+ HP
3 + 3
The Skill Orb's level is added to the equipped character's Hidden Potential Skill level and equipped character's HP +900. It can only be equipped to "Full Power" Category characters.
Critical Hit
+ ATK
3 + 1
The Skill Orb's level is added to the equipped character's Hidden Potential Skill level and equipped character's ATK +300. It can only be equipped to "Androids" Category characters.
Evasion
+ DEF
3 + 2
The Skill Orb's level is added to the equipped character's Hidden Potential Skill level and equipped character's DEF +600. It can only be equipped to "Androids" Category characters.
Combo Attack
+ HP
3 + 3
The Skill Orb's level is added to the equipped character's Hidden Potential Skill level and equipped character's HP +900. It can only be equipped to "Androids" Category characters.
Critical Hit
+ ATK
4 + 1
The Skill Orb's level is added to the equipped character's Hidden Potential Skill level and equipped character's ATK +300. It can only be equipped to Super Class characters.
Evasion
+ DEF
4 + 2
The Skill Orb's level is added to the equipped character's Hidden Potential Skill level and equipped character's DEF +600. It can only be equipped to Super Class characters.
Combo Attack
+ HP
4 + 3
The Skill Orb's level is added to the equipped character's Hidden Potential Skill level and equipped character's HP +900. It can only be equipped to Super Class characters.
Critical Hit
+ ATK
4 + 1
The Skill Orb's level is added to the equipped character's Hidden Potential Skill level and equipped character's ATK +300. It can only be equipped to Extreme Class characters.
Evasion
+ DEF
4 + 2
The Skill Orb's level is added to the equipped character's Hidden Potential Skill level and equipped character's DEF +600. It can only be equipped to Extreme Class characters.
Combo Attack
+ HP
4 + 3
The Skill Orb's level is added to the equipped character's Hidden Potential Skill level and equipped character's HP +900. It can only be equipped to Extreme Class characters.
Critical Hit
+ ATK
4 + 1
The Skill Orb's level is added to the equipped character's Hidden Potential Skill level and equipped character's ATK +300. It can only be equipped to "Fusion" Category characters.
Evasion
+ DEF
4 + 2
The Skill Orb's level is added to the equipped character's Hidden Potential Skill level and equipped character's DEF +600. It can only be equipped to "Fusion" Category characters.
Combo Attack
+ HP
4 + 3
The Skill Orb's level is added to the equipped character's Hidden Potential Skill level and equipped character's HP +900. It can only be equipped to "Fusion" Category characters.
Critical Hit
+ ATK
4 + 1
The Skill Orb's level is added to the equipped character's Hidden Potential Skill level and equipped character's ATK +300. It can only be equipped to "Shadow Dragon Saga" Category characters.
Evasion
+ DEF
4 + 2
The Skill Orb's level is added to the equipped character's Hidden Potential Skill level and equipped character's DEF +600. It can only be equipped to "Shadow Dragon Saga" Category characters.
Combo Attack
+ HP
4 + 3
The Skill Orb's level is added to the equipped character's Hidden Potential Skill level and equipped character's HP +900. It can only be equipped to "Shadow Dragon Saga" Category characters.
Critical Hit
+ ATK
4 + 1
The Skill Orb's level is added to the equipped character's Hidden Potential Skill level and equipped character's ATK +300. It can only be equipped to "Peppy Gals" Category characters.
Evasion
+ DEF
4 + 2
The Skill Orb's level is added to the equipped character's Hidden Potential Skill level and equipped character's DEF +600. It can only be equipped to "Peppy Gals" Category characters.
Combo Attack
+ HP
4 + 3
The Skill Orb's level is added to the equipped character's Hidden Potential Skill level and equipped character's HP +900. It can only be equipped to "Peppy Gals" Category characters.
Critical Hit
+ ATK
4 + 1
The Skill Orb's level is added to the equipped character's Hidden Potential Skill level and equipped character's ATK +300. It can only be equipped to "Hybrid Saiyans" Category characters.
Evasion
+ DEF
4 + 2
The Skill Orb's level is added to the equipped character's Hidden Potential Skill level and equipped character's DEF +600. It can only be equipped to "Hybrid Saiyans" Category characters.
Combo Attack
+ HP
4 + 3
The Skill Orb's level is added to the equipped character's Hidden Potential Skill level and equipped character's HP +900. It can only be equipped to "Hybrid Saiyans" Category characters.
Critical Hit
+ ATK
4 + 1
The Skill Orb's level is added to the equipped character's Hidden Potential Skill level and equipped character's ATK +300. It can only be equipped to "Resurrected Warriors" Category characters.
Evasion
+ DEF
4 + 2
The Skill Orb's level is added to the equipped character's Hidden Potential Skill level and equipped character's DEF +600. It can only be equipped to "Resurrected Warriors" Category characters.
Combo Attack
+ HP
4 + 3
The Skill Orb's level is added to the equipped character's Hidden Potential Skill level and equipped character's HP +900. It can only be equipped to "Resurrected Warriors" Category characters.
Critical Hit
+ ATK
4 + 1
The Skill Orb's level is added to the equipped character's Hidden Potential Skill level and equipped character's ATK +300. It can only be equipped to "Realm of Gods" Category characters.
Evasion
+ DEF
4 + 2
The Skill Orb's level is added to the equipped character's Hidden Potential Skill level and equipped character's DEF +600. It can only be equipped to "Realm of Gods" Category characters.
Combo Attack
+ HP
4 + 3
The Skill Orb's level is added to the equipped character's Hidden Potential Skill level and equipped character's HP +900. It can only be equipped to "Realm of Gods" Category characters.
Critical Hit
+ ATK
4 + 1
The Skill Orb's level is added to the equipped character's Hidden Potential Skill level and equipped character's ATK +300. It can only be equipped to "Majin Buu Saga" Category characters.
Evasion
+ DEF
4 + 2
The Skill Orb's level is added to the equipped character's Hidden Potential Skill level and equipped character's DEF +600. It can only be equipped to "Majin Buu Saga" Category characters.
Combo Attack
+ HP
4 + 3
The Skill Orb's level is added to the equipped character's Hidden Potential Skill level and equipped character's HP +900. It can only be equipped to "Majin Buu Saga" Category characters.
Critical Hit
+ ATK
4 + 1
The Skill Orb's level is added to the equipped character's Hidden Potential Skill level and equipped character's ATK +300. It can only be equipped to "Potara" Category characters.
Evasion
+ DEF
4 + 2
The Skill Orb's level is added to the equipped character's Hidden Potential Skill level and equipped character's DEF +600. It can only be equipped to "Potara" Category characters.
Combo Attack
+ HP
4 + 3
The Skill Orb's level is added to the equipped character's Hidden Potential Skill level and equipped character's HP +900. It can only be equipped to "Potara" Category characters.
Critical Hit
+ ATK
4 + 1
The Skill Orb's level is added to the equipped character's Hidden Potential Skill level and equipped character's ATK +300. It can only be equipped to "Universe Survival Saga" Category characters.
Evasion
+ DEF
4 + 2
The Skill Orb's level is added to the equipped character's Hidden Potential Skill level and equipped character's DEF +600. It can only be equipped to "Universe Survival Saga" Category characters.
Combo Attack
+ HP
4 + 3
The Skill Orb's level is added to the equipped character's Hidden Potential Skill level and equipped character's HP +900. It can only be equipped to "Universe Survival Saga" Category characters.
Critical Hit
+ ATK
4 + 1
The Skill Orb's level is added to the equipped character's Hidden Potential Skill level and equipped character's ATK +300. It can only be equipped to "Super Saiyan 3" Category characters.
Evasion
+ DEF
4 + 2
The Skill Orb's level is added to the equipped character's Hidden Potential Skill level and equipped character's DEF +600. It can only be equipped to "Super Saiyan 3" Category characters.
Combo Attack
+ HP
4 + 3
The Skill Orb's level is added to the equipped character's Hidden Potential Skill level and equipped character's HP +900. It can only be equipped to "Super Saiyan 3" Category characters.
Critical Hit
+ ATK
4 + 1
The Skill Orb's level is added to the equipped character's Hidden Potential Skill level and equipped character's ATK +300. It can only be equipped to "Giant Form" Category characters.
Evasion
+ DEF
4 + 2
The Skill Orb's level is added to the equipped character's Hidden Potential Skill level and equipped character's DEF +600. It can only be equipped to "Giant Form" Category characters.
Combo Attack
+ HP
4 + 3
The Skill Orb's level is added to the equipped character's Hidden Potential Skill level and equipped character's HP +900. It can only be equipped to "Giant Form" Category characters.
Critical Hit
+ ATK
4 + 1
The Skill Orb's level is added to the equipped character's Hidden Potential Skill level and equipped character's ATK +300. It can only be equipped to "Transformation Boost" Category characters.
Evasion
+ DEF
4 + 2
The Skill Orb's level is added to the equipped character's Hidden Potential Skill level and equipped character's DEF +600. It can only be equipped to "Transformation Boost" Category characters.
Combo Attack
+ HP
4 + 3
The Skill Orb's level is added to the equipped character's Hidden Potential Skill level and equipped character's HP +900. It can only be equipped to "Transformation Boost" Category characters.
Critical Hit
+ ATK
4 + 1
The Skill Orb's level is added to the equipped character's Hidden Potential Skill level and equipped character's ATK +300. It can only be equipped to "Ginyu Force" Category characters.
Evasion
+ DEF
4 + 2
The Skill Orb's level is added to the equipped character's Hidden Potential Skill level and equipped character's DEF +600. It can only be equipped to "Ginyu Force" Category characters.
Combo Attack
+ HP
4 + 3
The Skill Orb's level is added to the equipped character's Hidden Potential Skill level and equipped character's HP +900. It can only be equipped to "Ginyu Force" Category characters.
Critical Hit
+ ATK
4 + 1
The Skill Orb's level is added to the equipped character's Hidden Potential Skill level and equipped character's ATK +300. It can only be equipped to "Movie Bosses" Category characters.
Evasion
+ DEF
4 + 2
The Skill Orb's level is added to the equipped character's Hidden Potential Skill level and equipped character's DEF +600. It can only be equipped to "Movie Bosses" Category characters.
Combo Attack
+ HP
4 + 3
The Skill Orb's level is added to the equipped character's Hidden Potential Skill level and equipped character's HP +900. It can only be equipped to "Movie Bosses" Category characters.
Critical Hit
+ ATK
4 + 1
The Skill Orb's level is added to the equipped character's Hidden Potential Skill level and equipped character's ATK +300. It can only be equipped to "Pure Saiyans" Category characters.
Evasion
+ DEF
4 + 2
The Skill Orb's level is added to the equipped character's Hidden Potential Skill level and equipped character's DEF +600. It can only be equipped to "Pure Saiyans" Category characters.
Combo Attack
+ HP
4 + 3
The Skill Orb's level is added to the equipped character's Hidden Potential Skill level and equipped character's HP +900. It can only be equipped to "Pure Saiyans" Category characters.
Critical Hit
+ ATK
4 + 1
The Skill Orb's level is added to the equipped character's Hidden Potential Skill level and equipped character's ATK +300. It can only be equipped to "Future Saga" Category characters.
Evasion
+ DEF
4 + 2
The Skill Orb's level is added to the equipped character's Hidden Potential Skill level and equipped character's DEF +600. It can only be equipped to "Future Saga" Category characters.
Combo Attack
+ HP
4 + 3
The Skill Orb's level is added to the equipped character's Hidden Potential Skill level and equipped character's HP +900. It can only be equipped to "Future Saga" Category characters.
Critical Hit
+ ATK
4 + 1
The Skill Orb's level is added to the equipped character's Hidden Potential Skill level and equipped character's ATK +300. It can only be equipped to "Full Power" Category characters.
Evasion
+ DEF
4 + 2
The Skill Orb's level is added to the equipped character's Hidden Potential Skill level and equipped character's DEF +600. It can only be equipped to "Full Power" Category characters.
Combo Attack
+ HP
4 + 3
The Skill Orb's level is added to the equipped character's Hidden Potential Skill level and equipped character's HP +900. It can only be equipped to "Full Power" Category characters.
Critical Hit
+ ATK
4 + 1
The Skill Orb's level is added to the equipped character's Hidden Potential Skill level and equipped character's ATK +300. It can only be equipped to "Androids" Category characters.
Evasion
+ DEF
4 + 2
The Skill Orb's level is added to the equipped character's Hidden Potential Skill level and equipped character's DEF +600. It can only be equipped to "Androids" Category characters.
Combo Attack
+ HP
4 + 3
The Skill Orb's level is added to the equipped character's Hidden Potential Skill level and equipped character's HP +900. It can only be equipped to "Androids" Category characters.
Currently Unavailable