---









---
Icon
Name
Effect
Required to Complete
Required Film
Dragon Ball
Oolong's Wish
Additional drop rate increased by 50% in events with the special effect "Bonus Reward Drop Rate Increased" (once only)
x100

x70
Dragon Ball Z
Frieza's Anger
Extreme Class allies' ATK +15% for 1 turn when facing a Super Class enemy (once only)
x100

x70
Secret Feelings
"Majin Buu Saga" Category allies' Ki +2 for 2 turns from the start of battle
x100

x120
Dragon Ball GT
Pull Out the Tail!
Super Class allies' ATK +15% for 1 turn when facing an Extreme Class enemy (once only)
x100

x70
Para Para Brothers Are Here!
Seals all enemies' Super Attack when HP is 88% or more, starting from the 3rd turn from the start of battle (once only)
x100

x120
Bulla Is Shopping
Additional drop rate increased by 85% in events with the special effect "Bonus Reward Drop Rate Increased" (once only)
x100

x120
Dragon Ball Movies
Fly Icarus!
All allies' ATK & DEF +10% for 1 turn when HP is 70% or less (once only)
x100

x70
Krillin's Enthusiastic Singing
Lowers all enemies' ATK by 5% during the 1st turn of battle, by 4% during the 2nd turn, and by 3% during the 3rd turn (once only)
x100

x120
Dragon Ball Super
My First Tempura
All allies' Ki +3 during the 3rd turn from the start of battle (once only)
x100

x70
Master and Disciple's Aim for Greater Heights
"Bond of Master and Disciple" Category allies' ATK & DEF +10% for 2 turns from the start of battle (once only)
x100

x100
Siblings' Bond
Recovers 18% HP and "Siblings' Bond" Category allies' ATK & DEF +18% for 1 turn when HP is 50% or less (once only)
x100

x100
Zeno's Words of Thanks
"Universe Survival Saga" Category allies' ATK & DEF +10% during battle
x12

x200
It is an item that can be used for Quests and Events. You can bring it to the event in the same way as the support item to exert various effects.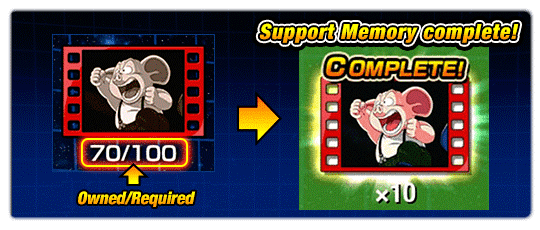 In order to use Support Memories, you first need to collect a certain number of these Support Memories and "complete" them. Some Support Memories may be obtained as Login rewards, while others only from specific Events.

An example in the above image: 100 Support Memories need to be collected before you can use the Support Memory for the first time.

In order to activate the support memory, a "Film" of the corresponding color is required. When activated, the corresponding Film will be consumed. The type and number of films required depend on the Support Memory. The film can only be consumed once per challenge. If you bring the Support Memory without enough Film, it will not be activated. There are 5 types of films in all.
| | |
| --- | --- |
| | Required to use "Support Memory (Red)" |
| | Required to use "Support Memory (Yellow)" |
| | Required to use "Support Memory (Orange)" |
| | Required to use "Support Memory (Blue)" |
| | Required to use "Support Memory (Green)" |
The film can be exchanged for Trade Points at Baba's Treasures. The maximum amount of each film that can be stored in the inventory is 200. If you exceed the upper limit, it will be discarded even if you get it with a clear reward etc., so actively use the Support Memory to consume the Film.


The Support Memory brought in the Event will be activated automatically when the conditions are met. The activation conditions and effects differ for each Support Memory and can be confirmed on the item details screen.
*Disclosure: Some of the links above are affiliate links, meaning, at no additional cost to you, Fandom will earn a commission if you click through and make a purchase. Community content is available under
CC-BY-SA
unless otherwise noted.