There are log-in rewards every single day!! Be sure to log-in every day!
Info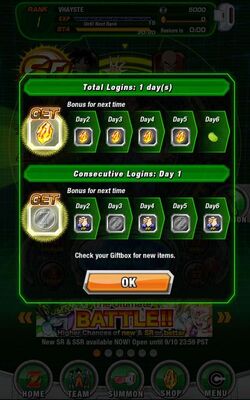 When you log in every day you will receive certain rewards such as
 (Dragon Stones)
Special rewards on certain days (extra items, cards, etc.)
There's three types of rewards you can earn:
Total Logins mark the number of days you have played the game.
Consecutive Logins demonstrate the number of consecutive days that you entered the game. Missing 1 day will reset the counter.
Campaign Logins are limited login bonuses you receive when you login during a Campaign.
Claiming periods
User ID that ends with a 0: 16:00:00 ~ 15:59:59 next day PST
User ID that ends with a 1: 16:10:00 ~ 16:09:59 next day PST
User ID that ends with a 2: 16:20:00 ~ 16:19:59 next day PST
User ID that ends with a 3: 16:30:00 ~ 16:29:59 next day PST
User ID that ends with a 4: 16:40:00 ~ 16:39:59 next day PST
User ID that ends with a 5: 16:50:00 ~ 16:49:59 next day PST
User ID that ends with a 6: 17:00:00 ~ 16:59:59 next day PST
User ID that ends with a 7: 17:10:00 ~ 17:09:59 next day PST
User ID that ends with a 8: 17:20:00 ~ 17:19:59 next day PST
User ID that ends with a 9: 17:30:00 ~ 17:29:59 next day PST
List of Login Rewards