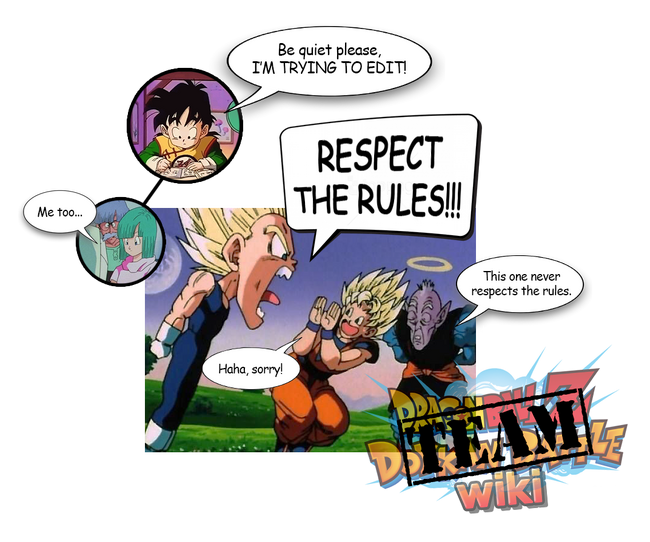 ---
Welcome! This is a list of amazing people who help the wikia! Feel free to message any of them, they'll definitely help you. We want to thank all the contributors!
Bureaucrats

NegativeSymptom: Has great knowledge of the Japanese version, helps other users
Nononyan: He is the person who created this wikia. Thanks to him!
Tigrouille: Dictator, the boss in the wikia

Admins

GROSJUNG: Creator of many thumbnails, medals, and other important images
Makakou: The first Admin
Mazdafreak: Pro-Nuker
ThisUserLikesOreo: Doesn't actually eat oreos

Content Moderators

HorusDB: Helps with new cards and damage calculations
HowlingWolf83: Creates high quality LR thumbnails and artworks
Matt2905: Awesome helper, infinite knowledge about code

Courtesy Squad

Coolconnor995: Texas Lightning, yee-haw
Dragenser: Squad Leader
Gilaad: Professional team builder
Haf1 X: Just an average Dragon Ball artist
SaiyajinTurles: Former Special Attack Quotes Guy

Special Thanks

Adog781: Login rewards
AsfaltaCristi: Addition of HD card artworks
CakeBuu: Former Admin, ideas man, creator of many pages
Colrot: Origin arts.
Comrade SS: Former admin, adds new information when it comes out
Dokkan Master: Former admin, inactive right now
Enderverse: Former Content Mod (Retired); Helps quite a lot with pages
Khaesho: Mathematical algorithm genius, progress tracker
RoxasNº13: Adds things that are missing from pages
Loekman3: Helps by updating the Tier Lists
Namekiankai: Former Admin, bot manager
NMBRHNTR64: Former Courtesy Squad Leader
PixelKnight4866: Former Courtesy Squad member
RenanRoppongiHouse: Addition of HD card artworks
SecretSynergy: Former Courtesy Squad member
ShuntsJD: Former Courtesy Squad member
Son19: Disambiguation pages and categories champion
Super Saiyan Kolra: Creates images for the Tier List
Taro2345: Helps with new content
TTeglas: Link skill updates
XCpwner1337: SA Animations
Xikhuang: Former Courtesy Squad, grammatical error checker
Yaronos: Bulk category adding
Helpful Websites
DBZ Space - Early Global translations, especially for the Japanese updates. Art assets and card data.
Dokkan Battle Sub Reddit - Provides information on the Japanese version and other useful information.
Dokkan Info - Statistics on drop rates.
*Disclosure: Some of the links above are affiliate links, meaning, at no additional cost to you, Fandom will earn a commission if you click through and make a purchase. Community content is available under
CC-BY-SA
unless otherwise noted.