---
---



---
List of

World Tournaments
1 | 2 | 3 | 4 | 5 | 6 | 7 | 8 | 9 | 10 | 11 | 12 | 13 | 14 | 15 | 16 | 17 | 18 | 19 | 20
21 | 22 | 23 | 24 | 25 | 26 | 27 | 28 | 29 | 30 | 31 | 32 | 33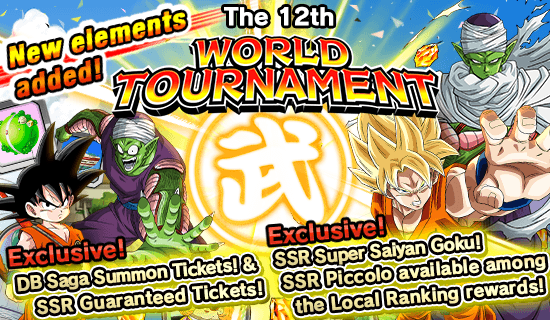 Note: (subject to updates)
For those who are unfamiliar with the new Tournament set up:
►New difficulties are being added. Maximum difficulty is x20 and the enemies in this difficulty have circa 200K health if not more. Some enemies at X10 can 1-shot you with a super attack, so plan accordingly.
►Nuking with AoE characters is probably the best strategy for higher difficulties but sometimes it will take more than 1 nuke. Xeno Trunks is unfortunately the weakest AoE.
►As always, its fun to abuse Unexpected Use Jaco and The Gifted One Chiaotzu if you don't have an AOE bomber to carry you.
►You no longer need to grind 80 wins for one GSSR. You will get several GSSR tickets throughout the tournament, with GSSR rewards capped at making a 20 win streak and 10 million points. Farming at the 10X level should get you close to 10 Mil after 20 consecutive wins.
►You will also be placed in a "local" group of 300 people. Top 100 will get the SSR Piccolo that dokkans into LR, but higher ranks give you more medals. 77 total medals are needed to dokkan him to a LR.
►GSSR banner has also changed. They removed several powerful characters and added in many exclusive characters from previous tourneys that were previously unobtainable.
►'WT Global Prize:'
Heartfelt Transformation Super Saiyan Goku
►'WT Local Prize:'
Demon King's Successor Piccolo
*Disclosure: Some of the links above are affiliate links, meaning, at no additional cost to you, Fandom will earn a commission if you click through and make a purchase. Community content is available under
CC-BY-SA
unless otherwise noted.